Filleigh Village Hall

Registered Charity No. 1081659
Filleigh Village Hall, Filleigh, Barnstaple, Devon, EX32 0RS, UK.
Filleigh Village Hall has been awarded HALLMARK

by The Community Council of Devon.
The Filleigh History Group
The Filleigh History Group was started in October 2002 and shortly after its inception it was decided that one of the objectives would be to research and write a history of the Parish.
The opportunity was taken when the organisers of Lightquest announced their forthcoming 'Dreamwalk' event to be held at Castle Hill in August 2003. They requested that the group produced a booklet to be sold at the event, specifically on the history of the Gardens to help with the fund raising for the North Devon Hospice.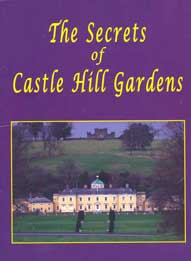 Many contributions of material and photographs were received, most of which will be used for a later project, but for the 'gardens' booklet they had unprecedented access to the diaries of the Earls Fortescue which described the garden features (temples, bridges etc.) together with delightful sketches.
The timing was critical, but with an enthusiastic and talented team the deadline was achieved and, with the help of a most cooperative printer, the booklets were delivered ahead of the event. Copies of the booklet were sold at each evening of the 'Dreamwalk' event and, after paying the printing costs, £1,000 was donated to North Devon Hospice. Remaining copies will be sold in local shops and all profits are being distributed to the North Devon Hospice and to other local Filleigh charities.
Update (December 2004)
So far the group have sold over 1300 copies and after paying costs the following donations have been made:-
| | |
| --- | --- |
| North Devon Hospice - £1000 | Filleigh (PC) Community Fund - £250 |
| St. Paul's Church £250 | Filleigh Village Hall - £250 |
| The Boscastle Appeal - £250 | Radio Devon's Chestnut Appeal - £200 |
Copies can also be obtained by post from 01769 579948, price £3.40.
Book project members - Karen and Rod Toms, Beryl Morgan, Dick Cross, David and Carole Ryall, Jill Buckley, Veronica Cook and Roger Watts.
Filleigh History Group meet at Filleigh Village Hall on the 4th Wednesday of each month.
Gardens Open
Guided tours by arrangement. www.castlehilldevon.co.uk
for further information
Telephone: 01598 760336 (option2)
Fax: 01598 760457
E-mail: office@castlehill-devon.com